Flying to attend a conference might swiftly be replaced by holding an event online. Many people have started to grow their own vegetables at homes, allotments and community gardens. Reactions to the novel coronavirus, SARS-CoV-2, in China have led to emissions reductions in different industrial sectors ranging from 15%–40%. What if plummeting levels of air pollution gave the public a lasting taste for cleaner air, could it shift expectations and open up new possibilities for change?
This report brings together lessons from the experience of the Covid-19 pandemic ranging across our transport and food systems, working life, arts, culture and consumerism, nature, the logistical challenges of achieving rapid change, mutual aid and leadership during crises by communities.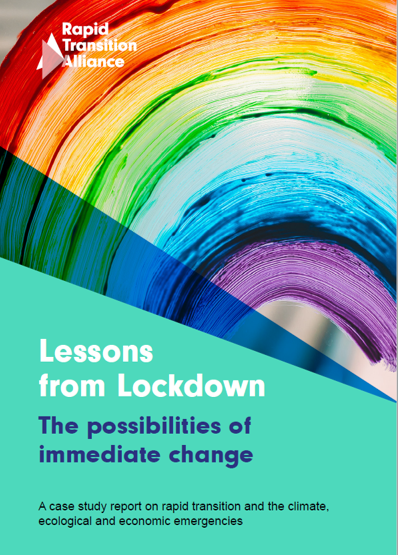 REPORT- Lessons from Lockdown: The possibilities of immediate change  
It reveals that – despite some lamenting the apparently impossible scale of action needed to reverse climatic upheaval – people demonstrate they can do just that. They can act rapidly, using the best information at the time, and focus effort and resources with laser-like accuracy where they were needed. The same can be done in the challenge of preserving a habitable climate. We hope, above all, that it demonstrates that rapid transition is not only possible, but that it could solve several problems in addition to the climate emergency and bring about better lives for all.
As some of the latest climate research points to a growing gap between action commitments on the climate emergency and what the science says is needed, and a much shorter time in which to act, three lessons on rapid transition stand out from global pandemic responses:
A clear understanding of risk can lead to much faster, coordinated responses to an emergency.
Rapid, physical mobilisation of resources can happen alongside behaviour change. People can change their daily habits very quickly, and adapt to new social norms.
Where adaptations and behaviour changes reveal possibilities for more sustainable behaviour – such as avoiding unnecessary travel – they should be encouraged to become the new norm, and made part of the broader climate emergency response.
About the author