MPs call for a National Energy Guarantee and green home upgrades
Green New Deal Group member Clive Lewis MP is proposing an amendment to the Government's Energy Bill which would replace the current energy pricing system with a National Energy Guarantee – a free or very low-cost allocation of energy designed to cover a household's basic needs. 
The amendment, which is based on a report from the New Economics Foundation (NEF) and work by the Energy For All campaign, is one of three 'Green New Deal' amendments tabled by members of the All-Party Parliamentary Group on the Green New Deal. 
They aim to address what Green New Deal advocates see as major gaps in the Bill, which is focused on updating legislation to account for changes in the energy system over the last decade, including by establishing a regulatory framework for heat networks, hydrogen, and carbon capture, usage and storage (CCUS). 
Energy for all
The National Energy Guarantee proposal would reverse the existing injustice where the poorest pay most for their energy. Instead, usage above the basic allowance would be charged at a higher rate – meaning 'luxury' energy consumption would be treated differently from essential use. This would create a greater incentive for those who can afford it to invest in energy efficiency measures such as insulation.  
The proposal recognises that additional allowances would be needed for certain categories of household, such as those which include children or disabled people, and those which use only electricity. According to NEF, the proposals would cut bills for up to 98% of households.

The amendment currently has support from MPs from Labour, the Green Party, Alliance and the SNP.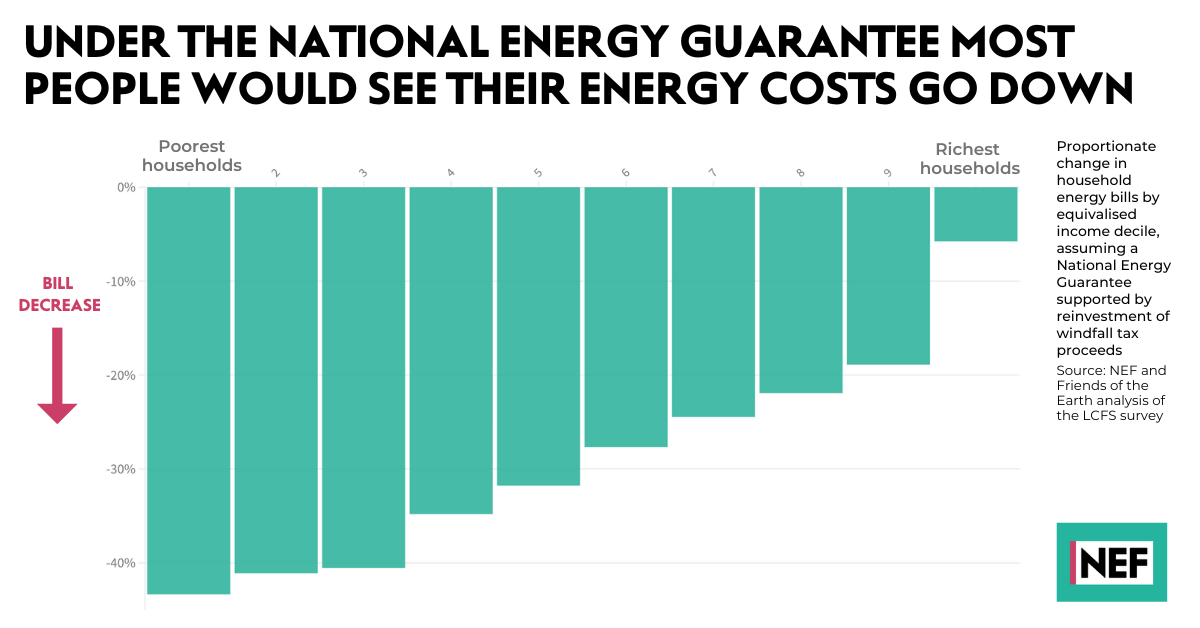 Cutting energy use while improving lives
The other two 'Green New Deal' amendments address the need to reduce wasteful energy consumption. Despite the Government's claims to be addressing energy security, the Bill has almost nothing to say about energy demand – an issue which needs to be taken just as seriously as supply if the UK is to maintain a secure energy supply and meet its climate targets. 
Caroline Lucas MP has tabled an amendment calling for an 'energy demand reduction delivery plan', drawing on research from the Centre for Research into Energy Demand Solutions which has found that the UK could cut its energy use by half without a negative impact on quality of life, and with benefits for health.  
The study notes that demand reduction will come about through a combination of energy efficiency improvements and technologies and changes to consumption patterns – for example active travel replacing car journeys. The UK currently has a target to reduce energy demand from buildings and industry by 15% by 2030, but has no plan for how this will be achieved, and no targets for other sectors such as transport. 
Letting councils lead the way on insulation
One of the key measures needed to reduce energy demand while improving quality of life is a mass programme of green upgrades to homes – including insulation and replacing gas boilers with heat pumps.  
Retrofitting homes for thermal comfort and energy efficiency has broad political support and is popular with the public – including Conservative Party members. However, schemes so far have been piecemeal and there is no long-term funding programme. The government's preferred approach is to deliver upgrades through energy companies via the Energy Company Obligation Scheme (ECO) – soon to be relaunched as the Great British Insulation Scheme – which targets individual homes. The revised scheme will aim to install a single energy efficiency measure (usually loft or cavity wall insulation) in as many homes as possible. 
Nadia Whittome, MP for Nottingham East, is proposing an amendment to the Energy Bill in support of a different approach – a long-term funding settlement for local authorities to enable them to plan and implement street-by-street retrofitting programmes. This would enable councils to tailor schemes to local need and deliver measures which benefit multiple houses (such as ground-source heat pumps or insulating a whole row of terraced houses), and could boost the number of local training programmes and businesses focusing on energy efficiency upgrades. 
MPs will debate the Bill when it returns to the House of Commons for report stage on Tuesday 5th September. 
About the author